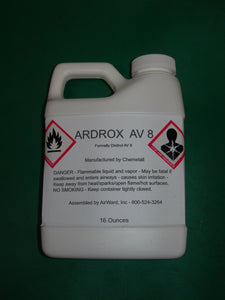 Ardrox AV8 Corrosion Preventative - 16 ounces
Formerly Dinitrol AV8.
AirWard has packaged a 16 ounce container of Ardrox AV8 for those repetitive jobs of protecting metal components from corrosion.
Manufactured by Chemetall USA.
Shipping will be via UPS/FedEx Ground ONLY - Continental U.S./Canada Only. No International Shipping available. Ardrox AV8 is considered a Flammable Liquid, HAZMAT.