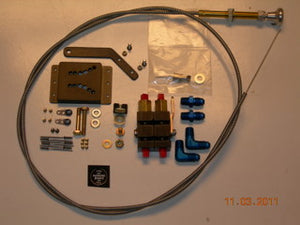 AirWard Parking Brake Kit - with MATCO PVPV-D Valve and Cable
VERY IMPORTANT: The Kits were originally developed for the Van's RV-10 and are adaptable to any Experimental Aircraft with Left and Right Braking.  The Adapter is designed to accommodate the MATCO PVPV-D Parking Brake Valve.  The only differences between the Experimental Aircraft are the Type and Size of the Brake Lines between the Master Cylinders and the top of the Main Gear Legs.  To ensure we ship the proper Fittings for the Parking Brake Valve (1/8" NPT Fittings) - indicate what material you plan to use - Aluminum or Plastic (Nylon) - and the outside diameter of the lines (usually 1/4" OD).  The Kit includes a 5 foot Push/Pull Cable to activate the Valve.  If you plan to mount the Valve from 5 to 8 feet from the Knob location on the instrument Panel - let us know and we will supply the 8 foot Cable.  Also, indicate if you require Straight, 45' or 90' Degree Fittings and how many of each.  When ordering - note this information in the NOTES Section of the Order Form along with the type of Experimental Aircraft.
You will want to stop and hold your aircraft for any of the following reasons:
Runup;
Fuel pit on a incline;
In front of your hangar;
Just a general Safety item.
Now available from a RV-10 builder. The Kit includes:
Machined adapter and arm;
MATCO PVPV-D Parking Brake Valve;
Hydraulic fittings (4) for Parking Brake Valve (no plumbing changes required);
Five foot Push/Pull Cable adjustable for your specific location;
All bolts, nuts, washers, nutplates, screws, rivets and clamps included.