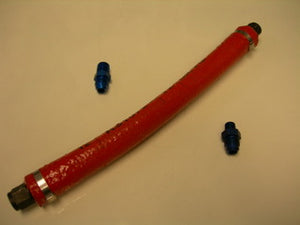 AirWard ONEX/SONEX - Fuel Flex Hose Kit - with Gascolator
AirWard has developed a Fuel Flex Hose Kit for ONEX/SONEX/WAIEX/XENOS AeroVee powered aircraft.  This Kit is for the aircraft equipped with a Gascolator mounted low/center of the Firewall.
The Kit consists of the following:
13.5" Stratoflex #6 Medium Pressure Hose with end fittings and Fire Sleeved;
MS20823-6D 45' Fitting for the Gascolator;
MS20822-6-2D 90' Fitting for the AeroVee Fuel Injector.